Flowers are associated with all sorts of special moments in life, also at the loss of a loved one flowers for a funeral are an expression of love for the deceased and offer comfort to the survivors. They are hopeful signs of love, compassion and sharing.
The choice for flowers is very personal. There are many variations are possible:
Drop
Biedermeier
Heart-shaped
Complete or half chest covering the color as a feature of the deceased, white as calm, colorful as cheerful.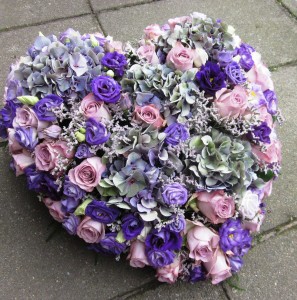 In order for you to make the matching flower arrangements, all the way to your needs, we invite you to a call so we can discuss your needs.
We appreciate you during a personal visit to our shop will discuss the possibilities with us, so that we can make according to your wish your mourning flowers
You can also order any ribbons. We have various colors in our range and supply the ribbons with your personal text in a nice quality. Below you can get an impression of the possibilities that we offer.
We wish you on the 1st place much strength in this difficult period.
Please note that flowers are seasonal and that some flower species so not processed.
** Funeral arrangements can be ordered until 12- the day before the funeral